About Viz Park Hotel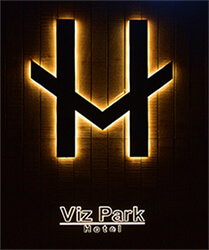 Viz Park Hotel is centrally located for all visiting Anand and Vallabh Vidhyanagar. There are 30 rooms with a contemporary decor and modern amenities.

Our minimalistic modern decor we wish to host guests from across the world. With all modern amenities such as Desi Firangi Restaurant and Sky Banquet. Viz Park is ideal hotel for every Individual, Family & corporate visiting Anand, Vallabh Vidhyanagar, Nadiad and Surrounding Areas. Managed by EASE Hotels.

Viz Park Hotel is a contemporary Hotel with Modern amenities and we are strongly believes that Change is the Only constant and accordingly will plan & load future plans.

Viz Park Hotel Seamless Hotel Welcomes Every Visitor as well as Corporate Business Man who Visited Anand Along with Cost Effective Rates.
Vision & Mission

Our Vision

Grow Together with Guest, Clients, People & Partners



Viz Park Hotel along-with EASE Hotels plans to make its presence felt across Gujarat with consistently delivering elevated level of services that matter to our key business and leisure guests. Our growth will be achieved & determined through ownership and management team of EASE Hotels.

Viz Park Hotel will be known for exemplary services and management by making its presence in the potential cities of Gujarat with our Chain of Hotels, Restaurant & Banquet.

Our Mission

Straight from our Heart, Concern & Quality



Viz Park Hotel is to exceed the expectations of our guests by consistently providing high quality standards in rooms, services, food and beverages division. Focus on individual business and leisure travel, as well as travel associated with group meetings. Provide a fair return and support to our management team recognizing that this cannot be done without well trained, motivated and enthusiastic employees.

We are committed to keep our team updated with latest skills for better service through trainings & development.